🎉Ballistic Club Independence Day Big Sale🎉Up to 49% OFF❗⚡Buy 2 Get Extra 5% OFF⚡Free Shipping Worldwide📣 your ENTIRE ORDER Today!
Why we can provide customers with affordable and good-quality ballistic helmets?
---
Our ballistic helmets are the trusted brand for police departments, civilians, and active-duty military around the world.
We are a helmet manufacturer and we have our own factories. We have been providing protective gear for South Asia and the Middle East since 2012.
We entered North America in 2020 and registered a local company. This stems from one of our agent customers in Vietnam recommending his American friend who is a helmet dealer to us, which makes us aware of the fact that American police departments, civilians, and active-duty military are in desperate need of ballistic helmets. But at present, our American customers can only buy ballistic helmets at high prices. This brings home to us that as a helmet manufacturer, it is our job to provide customers with ballistic helmets of good quality and at reasonable prices.
To this end, we are committed to providing customers with affordable and quality ballistic helmets.
Ballistic Club--Our Japanese factory production line&Our helmets NIJ IIIA Testing video
BALLISTIC PERFORMANCE
NIJ Level IIIA (according to NIJ STD 0106.01 / 0108.01) (Tested 9mm, 357, and .44 magnum)
IMPACT PERFORMANCE
(ACH Specification CO/PD-05-04): <150Gs
FRAGMENT PERFORMANCE
Fragment Performance: 17gr V50 ≥ 2400 ft/sec (731 m/s)
BLUNT IMPACT PERFORMANCE
Exceeds current ACH Blunt Impact Protection requirements (per AR/PD 10-02)
10-YEAR WARRANTY
We offer a 10-year manufacturer warranty on all products sold on our website. This means we guarantee that your product will remain free of manufacturer defects under normal use for 10 years.
PRODUCT DESCRIPTION
Ballistic Club MICH Helmet NIJ Level IIIA Ballistic Helmet with Below The Ear. The BTE® Ballistic Helmet has become the standard for Military, Law Enforcement, and Security Staff.
The BTE® Ballistic Helmet shell is made from advanced para-aramid fibers. The Helmet offers significant weight savings, with the BTE® weighing in at 3.3 lbs.
>>> Click here to check the NIJ Threat Level Report <<<
FEATURES:
Better unobstructed view and increased hearing capability compared to PASGT helmet
Maximum Comfort Impact Protection 7-pad (MCIP 7) suspension system
Quick release for easy-on, easy-off use with no interference when sighting the weapon for target acquisition
Configurable platform Standards
Meets or exceeds NIJ Level IIIA ballistic standard for penetration
Meets a minimum of 650 m/s V-50 for 22 calibers 17 grains (1.1 gram) FSP when tested according to STANAG 2920
Rail system
Hook and loop appliqué
Ballistic Club Cam-FitTM retention system
Ballistic Club H-Back retention system
All BallisticClub Helmets are suitable for people with a head circumference less than 60 cm or 24 inches.
If your head circumference is greater than 24 inches, unfortunately, our helmets are not suitable for you. You can send an email to service@ballisticclub.com and we will customize a helmet that suits you.
The MICH-style helmet has 7 pads,and all 7 pads are removable and can be adjusted to various positions for better individual comfort and the retention system includes a fully adjustable, smooth sliding lock and a padded nape strap to ensure a stable and secure t. A user-friendly quick release is mounted on the left side of the user's head. The retention system is attached to the shell with a sturdy four-point ush bolt system.If you think the helmet is too large, you can adjust it to achieve the most comfortable state.
How to adjust your helmet size to suit your head Ballistic Club-for the MICH-style ballistic helmet
The FAST-style helmet has the ACH Comfipad suspension system, a four point harness with a leather lined chin strap which , and an adjustable ratcheting system.If you think the helmet is not suitable, you can adjust the four point harness or the ratcheting knob to achieve the most comfortable state.
How to adjust your helmet size to suit your head Ballistic Club-for the FAST-style ballistic helmet
By the way, all helmets come with anti-collision foam pads. If you feel that the space inside the helmet is not large enough, you can remove the anti-collision foam pads on both sides according to your needs.
If you still have questions about the helmet size, please feel free to send an email to service@ballisticclub.com. One of our customer service staff will do their best to serve you.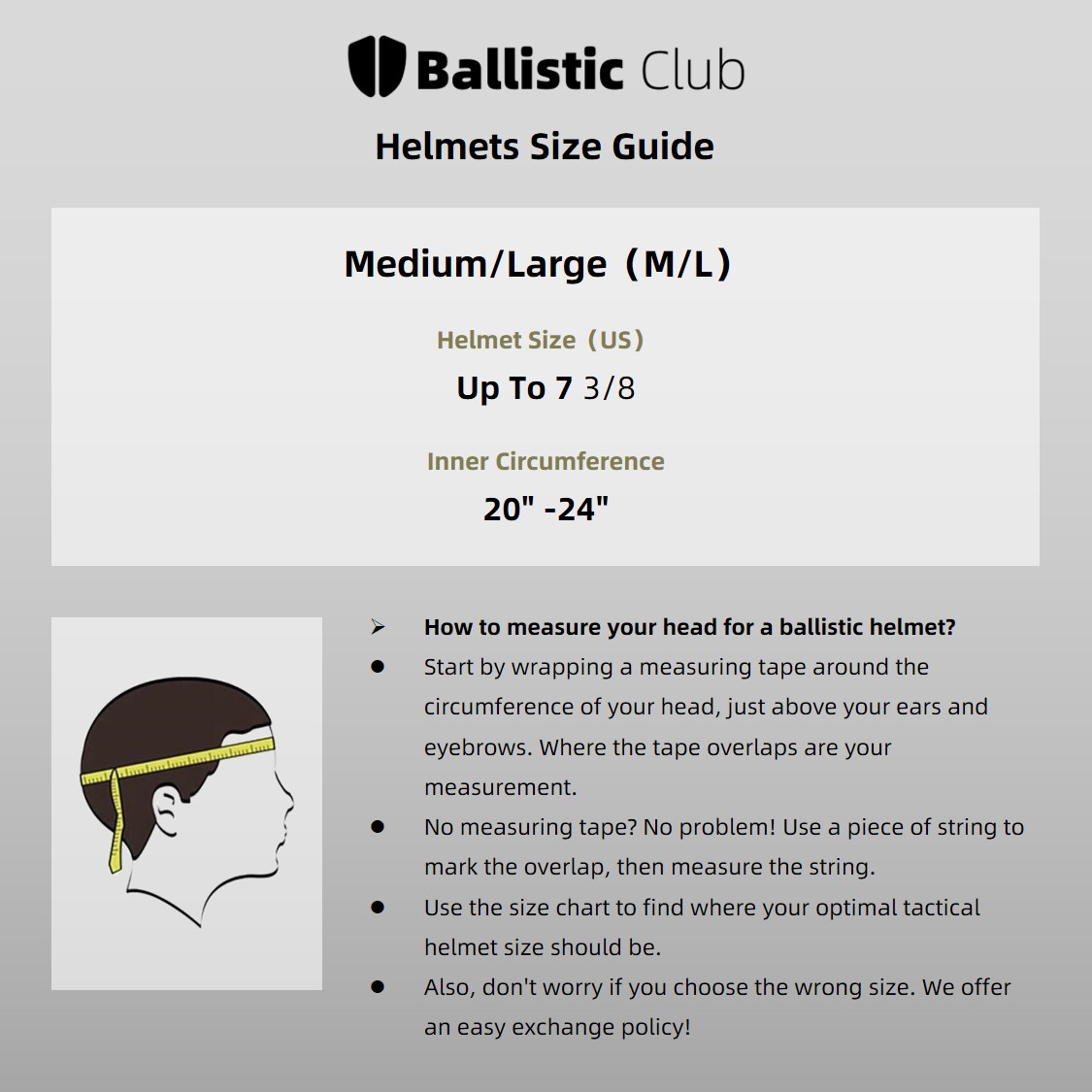 Ballistic Club will ship orders as soon as possible. For example, if you purchase three items, they will be shipped to you based on lead time and availability. This way you get as much of your order as soon as possible, which means that your order may come in separate packages.
Order Confirmation:
As soon as you place your order with Ballistic Club, you will receive an order confirmation e-mail. This means that your order has been logged in our system and your credit card has been pre-authorized for the purchase. Afterward, we contact our suppliers to confirm the availability of the product you are ordering for immediate shipment. If your item is on backorder or unavailable, we will cancel the pre-authorization and duly inform you via e-mail.
Order Shipment:
Orders are shipped within five business days from the date of your order unless specified otherwise on the product page. The product page will contain the most accurate information on shipping and lead times. You will receive an email containing the tracking information of your order after the order has been shipped to your location. If you do not receive tracking information from us within seven business days of the lead time specified on the product page, feel free to follow up with us at service@ballisticclub.com.
Damages:
We take full responsibility for any obvious damage to your product caused by wrong packaging or delivering an already defective product. Please inspect the packaging of your item(s) when they arrive, if you notice any damage, you should document it when signing for delivery. If the item(s) contained in the package arrives damaged, please send photos to service@ballisticclub.com, and we will process an insurance claim on your behalf.
Cancellations, Returns, & Refunds:
We back all our products with a customer satisfaction guarantee, so we created a fair cancellation policy.
In most cases, all orders are final and cannot be canceled once the order has been processed. If the order is within the proper time frame, contact Ballistic Club. This policy will be reviewed on an individual basis. All sales are final on all closeout items.
Should you cancel an order because you placed the order in error or wish to return your order after delivery for any reason other than a product defect or misrepresentation, you are subject to an administration and cancellation fee equal to 50% of your order with a minimum of $60, whether or not your order has shipped.
Unless noted otherwise on the product description page, return requests must be made within 14 calendar days upon receipt of shipment.You need to send the helmet with complete packaging without affecting the second sale( please note that you need to bear the return shipping costs yourself).
Though we offer "free shipping" on many of our items, it does not mean there is not an expense associated with the shipping. Shipping is factored into the cost. Should you return a product that was ordered by mistake, without defect, etc., you will be responsible for our original shipping cost(s) associated with the transaction.
Should an item be returned because it was defective, misrepresented, not as described, etc., Ballistic Club will issue a full refund and will reimburse the customer for all shipping expenses associated with the return. However, the product must be returned via USPS flat-rate shipping in order to receive a shipping expense refund. Buyers must ensure all returned parcels receive delivery AND signature confirmation.
Please allow 5-10 business days from the time the item is received to process a refund. Refunds will only be issued to the original credit card that you use when placing your order.
We stand behind our products 100%!
By purchasing any of our items, the buyer certifies they have read and agree to our shipping, return, and privacy policies.