Two Vests In One. This kit offers you a tactical bulletproof vest and a concealable bulletproof vest in one kit. You receive the BallisticClub Bulletproof Vest, which offers NIJ Level IIIA + protection, plus you receive a second front cover that includes a full MOLLE system for tactical use. This allows you to switch between tactical duties and concealable use. It's a great setup that is versatile and useful.
The Best Bulletproof Vest At An Unbeatable Price. Ballistic Club has always offered a great value. This Tactical Vest Kit provides level IIIA+ protection and a tactical carrier at an unbeatable price, just $799. We are convinced, that if you need to buy a bulletproof vest, that the BallisticClub Bulletproof Vest is the best choice for you.
What You Need At A Price You Can Afford. Ballistic Club Vest offers a brand new, level IIIA (3A) bulletproof vest with a carrier system that offers concealable or Tactical front covers for just $799. Trusted by national security companies, proven to save lives, and the best value in body armor. The BallisticClub Tactical Bulletproof Vest Kit is the bulletproof vest system you want. It is comfortable, concealable, versatile, and affordable.
Level IIIA Is The Right Protection Level For You. Level IIIA (3A) is the highest level of protection you will find in soft armor. Plus our vest is stab proof as well. Our vest will protect you from everything from a BB gun, to a knife, to a .44 magnum. That is great protection. Don't settle for other vests that offer level IIA or level II. You want level IIIA + Stab protection.
The Best Vest If You Have To Buy Your Own Vest. The BallisticClub Vest is the best value in bulletproof vests. If you have to buy your own vest with real money, it is by far the best bulletproof vest.
The BallisticClub Vest is Available In Six Sizes: L. Please use this helpful BallisticClub size chart.(Note:Other sizes need additional customization, please send an email to [email protected]). Your bulletproof vest size is NOT YOUR T-SHIRT SIZE. Use this height and weight chart to pick the best size vest for you. If you are between two sizes and you are fit, choose the smaller one. If you have more weight around your middle, choose the larger size.
Another note on bulletproof vest sizing: Your bulletproof vest needs to fit in one main area: around your stomach. The length of the vest is not important as you can use the shoulder straps to adjust it; the important factor to consider is the diameter of your midsection. If you have a large belly try to order at the top of your size range so that you can fasten the vest around your mid-section. If you are fit and have a flat stomach, order at the bottom of your size range.
What bullets can this vest protect against? Our vest offers NIJ Level IIIA protection. Level IIIA vests can protect against almost all handgun rounds. IIIA vests (ours included) are tested with bullets up to a .44 Magnum, which is a really powerful round. This vest will protect against smaller rounds as well. We are quite comfortable in saying that a class IIIA vest will protect you from almost any handgun you will encounter and certainly any handgun that someone conceals. Handgun violence makes up most of the shooting injuries in the US, so this bulletproof vest offers a great level of protection for you.
Easily Add Rifle Protection A IIIA vest won't protect against heavy rifle fire without added armor plates. That is why our vest has front and rear plate pockets and why we sell ballistic plates as well.
What are the dimensions of the bulletproof vest?
Dimensions by Vest Size
Size

Weight

Width of each protective panel

Height of each protective panel

Total protection area

Small

5.15 lbs.

16.25"

15.75"

390 sq. inches

Medium

5.70 lbs.

18"

15.75"

430 sq. inches

Large

5.70 lbs.

18"

15.75"

430 sq. inches

Extra Large

6.05 lbs.

18.5"

16"

450 sq. inches

2X

6.35 lbs.

19"

17"

490 sq. inches

4X

6.95 lbs.

21"

18"

560 sq. inches
Our vest is 0.48 inches thick in most areas. This includes the outer carrier. Some areas, such as where velcro patches are present, are thicker, but the armor/carrier material combination is 0.48 inches.
Can I exchange a vest for a different size? Yes, but only if it is still in new condition and within 30 days of your purchase. If you would like to exchange for a different size, the vest must be returned in as-new condition (clean, dust-free, unworn, not covered in animal hair, doesn't smell like cologne). Please include a note with your return telling us what size you would like to receive. We will mail the correct size free of charge.
Please contact Ballistic Club Customer Support at [email protected] to discuss your exchange and return process
Can I return a vest for a refund? Yes, but only if the vest is in new condition and you do it quickly. Returns are accepted if they are postmarked within 7 days of receipt. All returns are charged a 15% inspection/restocking fee. The vest must be returned in as-new condition (clean, dust-free, unworn, not covered in animal hair, doesn't smell like cologne). All returns require a Return Authorization.
Please contact Ballistic Club Customer Support at [email protected] to discuss your refund and return process
Almost anyone can order a bulletproof vest from us. Unless you are a convicted violent felon, you can legally order, own, and wear a bulletproof vest. The law does not limit your ability to be safe. We ship vests to Worldwide.
Who buys bulletproof vests. Bulletproof vests are popular for armored car personnel, police officers, security guards, ATM service technicians, repo men, investigators, pawn brokers, gas station attendants, avid shooters, hunters, preppers, and anyone else who wants to protect themselves from danger. No one wants to die at work, so people at risk buy BallisticClub Bulletproof Vests.
What Makes It A Tactical Vest Kit? With this kit you not only get our standard semi-concealable vest, but you also get a Tactical Front Carrier with it. Our Tactical Front Carrier offers MOLLE straps. These straps can be used to attach all sorts of pouches and equipment. MOLLE is a standard system and many manufacturers create pouches and holders that attach to it. Popular applications for the MOLLE system include holsters, radio holders, ammunition pouches, flash lights, EMT kits, and other equipment.
Can I also use this Tactical Vest Kit as a Standard Vest? Yes you can. When you order this kit you will get two different front carriers! Then you can choose the style you need when you need it. Concealable or tactical, you'll have both.
Are there plate pockets on both carriers? Yes, so if you ever decide that you want protection from rifle rounds or heavier weaponry, you can add ballistic plates. We have a great plate at a great price as well and it fits perfectly in these pockets. Our lightweight ceramic plates will fit in every size BallisticClub vest, while our Ultralight PE plates fit in Medium-4X BallisticClub Vests.
Where can I buy this vest? You can order your vest right on this page and we will ship it out immediately. It will arrive at your door quickly. If you operate a retail store or chain of stores, we are currently expanding the number of retailers that stock our vest. If you would like to sell BallisticClub vests in your retail store, click this link and fill out the form, a wholesale sales representative will contact you.
Is it comfortable? The BallisticClub Vest features a CoolMax rear liner and fully adjustable top and side straps. These features make it more comfortable than many bulletproof vests. Still, bulletproof vests in general are not very comfortable and ours is no different.
Is buying this the same as buying your bulletproof vest and the tactical front carrier? Yes. Ordering this item is the same exact thing as ordering those two items individually. It even has the same price.
How to measure your head for a ballistic helmet?

Start by wrapping a measuring tape around the circumference of your head, just above your ears and eyebrows. Where the tape overlaps are your measurement.
No measuring tape? No problem! Use a piece of string to mark the overlap, then measure the string.
Use the size chart to find where your optimal tactical helmet size should be.
Also, don't worry if you choose the wrong size. We offer an easy exchange policy!
All BallisticClub Helmets are suitable for people with a head circumference less than 60 cm or 24 inches.
If your head circumference is greater than 24 inches, unfortunately, our helmets are not suitable for you. You can send an email to [email protected] and we will customize a helmet that suits you.
The MICH-style helmet has seven pads,and all seven pads are removable and can be adjusted to various positions for better individual comfort and the retention system includes a fully adjustable, smooth sliding lock and a padded nape strap to ensure a stable and secure t. A user-friendly quick release is mounted on the left side of the user's head. The retention system is attached to the shell with a sturdy four-point ush bolt system.If you think the helmet is too large, you can adjust it to achieve the most comfortable state.
How to adjust your helmet size to suit your head Ballistic Club-for the MICH-style ballistic helmet
The FAST-style helmet has the ACH Comfipad suspension system, a four point harness with a leather lined chin strap which , and an adjustable ratcheting system.If you think the helmet is not suitable, you can adjust the four point harness or the ratcheting knob to achieve the most comfortable state.
How to adjust your helmet size to suit your head Ballistic Club-for the FAST-style ballistic helmet
By the way, all helmets come with anti-collision foam pads. If you feel that the space inside the helmet is not large enough, you can remove the anti-collision foam pads on both sides according to your needs.
If you still have questions about the helmet size, please feel free to send an email to [email protected]. One of our customer service staff will do their best to serve you.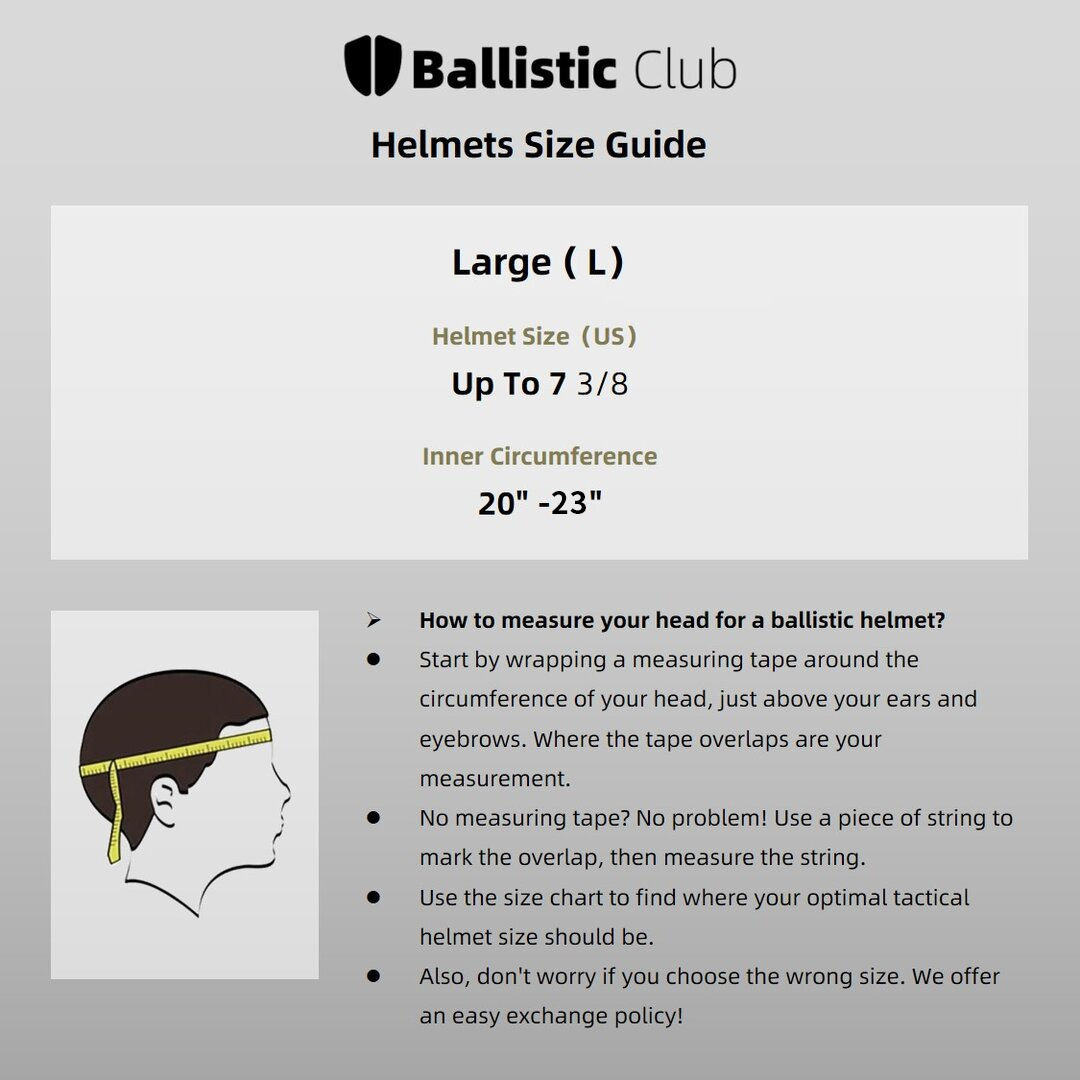 Ballistic Club will ship orders as soon as possible. For example, if you purchase three items, they will be shipped to you based on lead time and availability. This way you get as much of your order as soon as possible, which means that your order may come in separate packages.
Order Confirmation:
As soon as you place your order with Ballistic Club, you will receive an order confirmation e-mail. This means that your order has been logged in our system and your credit card has been pre-authorized for the purchase. Afterward, we contact our suppliers to confirm the availability of the product you are ordering for immediate shipment. If your item is on backorder or unavailable, we will cancel the pre-authorization and duly inform you via e-mail.
Order Shipment:
Orders are shipped within five business days from the date of your order unless specified otherwise on the product page. The product page will contain the most accurate information on shipping and lead times. You will receive an email containing the tracking information of your order after the order has been shipped to your location. If you do not receive tracking information from us within seven business days of the lead time specified on the product page, feel free to follow up with us at [email protected]
Shipping Fee and Time:


Damages:
We take full responsibility for any obvious damage to your product caused by wrong packaging or delivering an already defective product. Please inspect the packaging of your item(s) when they arrive, if you notice any damage, you should document it when signing for delivery. If the item(s) contained in the package arrives damaged, please send photos to [email protected], and we will process an insurance claim on your behalf.
Cancellations, Returns, & Refunds:
We back all our products with a customer satisfaction guarantee, so we created a fair cancellation policy.
In most cases, all orders are final and cannot be canceled once the order has been processed. If the order is within the proper time frame, contact Ballistic Club. This policy will be reviewed on an individual basis. All sales are final on all closeout items.
Should you cancel an order because you placed the order in error or wish to return your order after delivery for any reason other than a product defect or misrepresentation, you are subject to an administration and cancellation fee equal to 50% of your order with a minimum of $60, whether or not your order has shipped.
Unless noted otherwise on the product description page, return requests must be made within 14 calendar days upon receipt of shipment. You need to send the helmet with complete packaging without affecting the second sale( please note that you need to bear the return shipping costs yourself).
Though we offer "free shipping" on many of our items, it does not mean there is not an expense associated with the shipping. Shipping is factored into the cost. Should you return a product that was ordered by mistake, without defect, etc., you will be responsible for our original shipping cost(s) associated with the transaction.
Should an item be returned because it was defective, misrepresented, not as described, etc., Ballistic Club will issue a full refund and will reimburse the customer for all shipping expenses associated with the return. However, the product must be returned via USPS flat-rate shipping in order to receive a shipping expense refund. Buyers must ensure all returned parcels receive delivery AND signature confirmation.
Please allow 5-10 business days from the time the item is received to process a refund. Refunds will only be issued to the original credit card that you use when placing your order.
We stand behind our products 100%!
By purchasing any of our items, the buyer certifies they have read and agree to our shipping, return, and privacy policies.