Model Number: MICH 2000 Tactical helmet
This tactical combat helmet shell adopts the advanced environmental elastomer spraying process which imported from America, compared with traditional painting is not sensitive to temperature and humidity, shows the advantages of good mechanical properties, outstanding ageing resistance performance, one-piece cladding. Avoiding the MICH helmet strip easily affected by the temperature and humidity to chip, flake etc.There are two materials to choose from:1.Stamped from 18 layers of Kevlar material;2.Punched from 28 laminated polyethylene materials.They all meet Protection Level NIJ 0101.06 Level III A.

If you need extra protection to go with this helmet, make sure to check out the best NIJ rated IIIA Bulletproof Face Mask in the market today to ensure your safety at all times.
Features:
Lightweight and higher performing than old Kevlar helmets, capable of NIJ IIIA

Can stop 44 Magnum, 9mm, 45 cal, 40 cal, 38, 12 gauge slug, buckshot, and many more!

Materials and craftsmanship is the same for civilians as it is for police and military

Tested above and beyond the latest NIJ standards.

Rapid adjusting headband.

Fully adjustable 4 point chin straps with a cloth chin grip.

Memory padding that's fully adjustable with Velcro. It can be removed, exchanged, and beaten up and still keeps its shape for years to come. Feels hard at first? Leave it in for a minute.

Tactical rail system with 2 point bungee and vertical + horizontal rails.
Product Specifications
Weight

Small:1.35kg
Medium: 1.45kg
Large: 1.50kg
X-Large: 1.58kg

Material

Kevlar Aramid

Polyethylene Fiber

Performance

NIJ IIIA latest 0106.01 standard surpassed in testing

Complies with: US Standard - Mill STD 662 E, UK Standard - UK/SC/5449, NATO Standard - STANAG 2920

Usage

Self defense for army and police + private party

Suitable for head size

Small:53-55cm
Medium: 56-58cm
Large: 58-61cm
X-Large: 61-63cm
FAQ:
Q: What is a MICH/ACH helmet?
A: The MICH or Modular Integrated Communication Helmet was created in response to the weight of the previously used PASGT Helmet. The PASGT helmet was heavier and didn't have attachment rails or NVG mounts. So in order to mount anything to it, soldiers would have to carefully drill holes into their helmets, which could compromise the integrity of the Kevlar in the helmets. The PASGT helmet was also very heavy, so many soldiers opted for the fully plastic Bump helmet so they could have their attachments without the weight of the PASGT helmet. The MICH helmet is lightweight and has NVG attachment capabilities and 4 way attachment rails already built in.
Q: How is this helmet different from the competition?
A: This MICH/ACH ballistic helmet offers IIIA (aka 3A) protection. This means that it rises to, then goes above and beyond in performance compared to most other helmets on the market. Our helmets are capable of taking multiple strikes, stabbings, shrapnel, etc. Some unique features include; highly adjustable interior padding, rigid exterior, smooth coat interior, all-weather paint, NVG mount, 4-way attachment rail system, extra padding that's Velcro adjustable, bungees, cloth chin strap, and ratcheting head-capture system to fit almost any head size and shape.
Q: What attachments will this helmet take AND where can I get the ones that are pictured?
A: We didn't want to force customers into some proprietary or non-standard system. So we use the standard rail system and configurations for all our mounts/rails. Standard multi-NVG mount and standard rail system just to name two. This lets you fit all those attachments you already have, plus all the after-market ones you might need in the field. FBK-1901 7.62mm Launcher Protection Ballistic Face Shield.
Q: What is the return policy?
A: We are flexible. Please note that should the helmet show any signs of wear on a return, we cannot offer refunds for customer safety. Simply put, don't try to pull a fast one after you take those sweet Instagram pics on your sweaty head. (See our Shipping & Return Policy at the bottom of this page for more details)

Wondering how to choose the best helmet? Check out our ballistic helmet guide.
How to measure your head for a ballistic helmet?

Start by wrapping a measuring tape around the circumference of your head, just above your ears and eyebrows. Where the tape overlaps are your measurement.
No measuring tape? No problem! Use a piece of string to mark the overlap, then measure the string.
Use the size chart to find where your optimal tactical helmet size should be.
Also, don't worry if you choose the wrong size. We offer an easy exchange policy!
All BallisticClub Helmets are suitable for people with a head circumference less than 60 cm or 24 inches.
If your head circumference is greater than 24 inches, unfortunately, our helmets are not suitable for you. You can send an email to [email protected] and we will customize a helmet that suits you.
The MICH-style helmet has seven pads,and all seven pads are removable and can be adjusted to various positions for better individual comfort and the retention system includes a fully adjustable, smooth sliding lock and a padded nape strap to ensure a stable and secure t. A user-friendly quick release is mounted on the left side of the user's head. The retention system is attached to the shell with a sturdy four-point ush bolt system.If you think the helmet is too large, you can adjust it to achieve the most comfortable state.
How to adjust your helmet size to suit your head Ballistic Club-for the MICH-style ballistic helmet
The FAST-style helmet has the ACH Comfipad suspension system, a four point harness with a leather lined chin strap which , and an adjustable ratcheting system.If you think the helmet is not suitable, you can adjust the four point harness or the ratcheting knob to achieve the most comfortable state.
How to adjust your helmet size to suit your head Ballistic Club-for the FAST-style ballistic helmet
By the way, all helmets come with anti-collision foam pads. If you feel that the space inside the helmet is not large enough, you can remove the anti-collision foam pads on both sides according to your needs.
If you still have questions about the helmet size, please feel free to send an email to [email protected]. One of our customer service staff will do their best to serve you.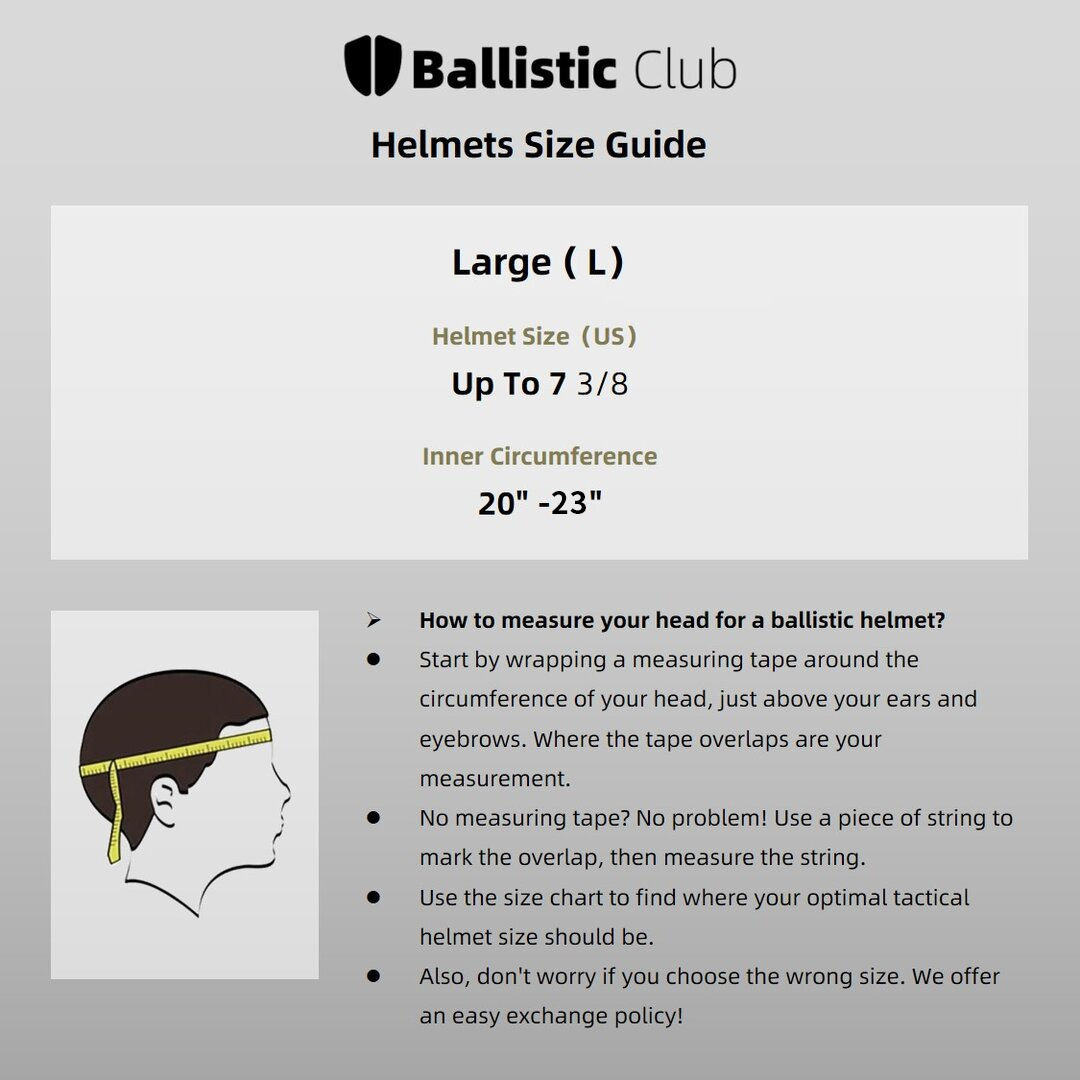 Ballistic Club will ship orders as soon as possible. For example, if you purchase three items, they will be shipped to you based on lead time and availability. This way you get as much of your order as soon as possible, which means that your order may come in separate packages.
Order Confirmation:
As soon as you place your order with Ballistic Club, you will receive an order confirmation e-mail. This means that your order has been logged in our system and your credit card has been pre-authorized for the purchase. Afterward, we contact our suppliers to confirm the availability of the product you are ordering for immediate shipment. If your item is on backorder or unavailable, we will cancel the pre-authorization and duly inform you via e-mail.
Order Shipment:
Orders are shipped within five business days from the date of your order unless specified otherwise on the product page. The product page will contain the most accurate information on shipping and lead times. You will receive an email containing the tracking information of your order after the order has been shipped to your location. If you do not receive tracking information from us within seven business days of the lead time specified on the product page, feel free to follow up with us at [email protected]
Shipping Fee and Time:


Damages:
We take full responsibility for any obvious damage to your product caused by wrong packaging or delivering an already defective product. Please inspect the packaging of your item(s) when they arrive, if you notice any damage, you should document it when signing for delivery. If the item(s) contained in the package arrives damaged, please send photos to [email protected], and we will process an insurance claim on your behalf.
Cancellations, Returns, & Refunds:
We back all our products with a customer satisfaction guarantee, so we created a fair cancellation policy.
In most cases, all orders are final and cannot be canceled once the order has been processed. If the order is within the proper time frame, contact Ballistic Club. This policy will be reviewed on an individual basis. All sales are final on all closeout items.
Should you cancel an order because you placed the order in error or wish to return your order after delivery for any reason other than a product defect or misrepresentation, you are subject to an administration and cancellation fee equal to 50% of your order with a minimum of $60, whether or not your order has shipped.
Unless noted otherwise on the product description page, return requests must be made within 14 calendar days upon receipt of shipment. You need to send the helmet with complete packaging without affecting the second sale( please note that you need to bear the return shipping costs yourself).
Though we offer "free shipping" on many of our items, it does not mean there is not an expense associated with the shipping. Shipping is factored into the cost. Should you return a product that was ordered by mistake, without defect, etc., you will be responsible for our original shipping cost(s) associated with the transaction.
Should an item be returned because it was defective, misrepresented, not as described, etc., Ballistic Club will issue a full refund and will reimburse the customer for all shipping expenses associated with the return. However, the product must be returned via USPS flat-rate shipping in order to receive a shipping expense refund. Buyers must ensure all returned parcels receive delivery AND signature confirmation.
Please allow 5-10 business days from the time the item is received to process a refund. Refunds will only be issued to the original credit card that you use when placing your order.
We stand behind our products 100%!
By purchasing any of our items, the buyer certifies they have read and agree to our shipping, return, and privacy policies.